Digital Transformation Program Management

Organizations all over the world are facing disruption from greater global competition, changing market demands and accelerated technological advances, recognize the need for robust, customer-centric digital strategies.

Companies need to be more flexible to adapt quickly to changes. As a result, many companies these days are moving towards project management, a strategy which offers enough flexibility and coordination in order to turn their business models into competitive machines.

A company's digital transformation can become a messy and troublesome process, a response to business or operational problems without having any leadership or any results. In order to tackle this risk, there is a need for a control mechanism that allows for managing the change.

We at BizTechnovations offer you a specially designed and carefully crafted transformation program management service that helps you implement a consistent and efficient transformation road map.
Digital Transformation Program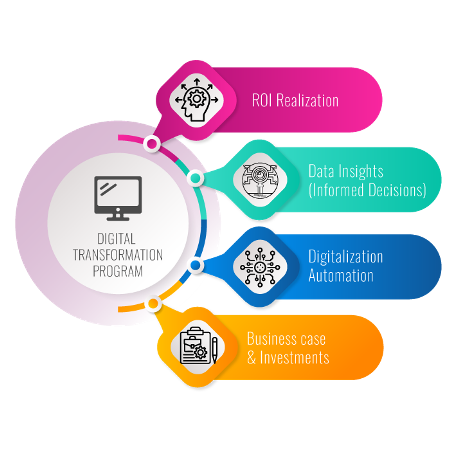 Re-active to Pro-active Approach in all actions.
Connect To active Organization Digitally.
Empower Eployees To Make Informed Decision.
Program Execution Approach
Conceptualization

Refined Objective

Project Team

Program Plan
Technology evaluation

Software Management

Implementation/Training

Enterprise solution
Capture ASIS process

Capture TOBE process 

Prepare CRM Strategy

Prepare BRD address
Technical architecture

High level design

Integration Architecture

Configuration check list